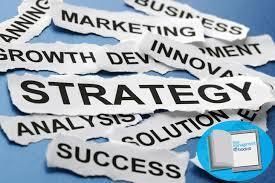 These checklists will give you a good understanding of the business analysis techniques and terminology to help you to contribute to the strategic decision-making process.
Strategy Process Checklist
PDF
This Strategy Process checklist describes a twelve-stage process that will assist you in developing your strategy and gaining approval for it.
Today's organizations find themselves operating in an environment that is changing faster than ever before. The process of analyzing the implications of these changes and modifying the way that the organization reacts to them is known as business strategy.
'Strategy is the direction and scope of an organization over the long term, which achieves advantage in a changing environment through its configuration of resources and competences' Johnson et al. (2009).
While your role as a manager is unlikely to require you to make decisions at the strategic level, you may be asked to contribute your expertise to meetings where strategic concerns are being discussed. You may also be asked to comment on pilot schemes, presentations, reports, or statistics that will affect future strategy.
Typical scenarios where you could be asked to provide information and data for your organization's strategic decision making include:

• Analyzing the organization's external environment.
• Assessing the organization's internal capabilities.
• Assisting with the definition of the organization's strategy.
• Aiding in the implementation of the organization's strategy.